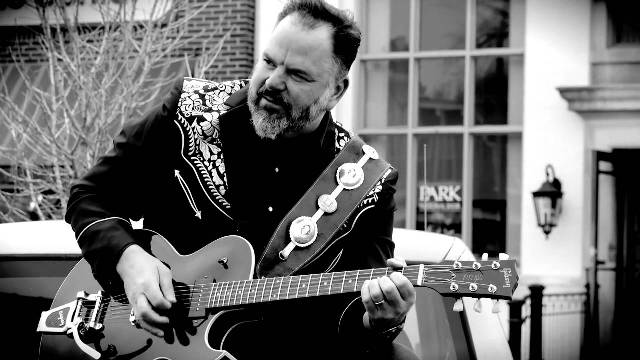 By Katie Cooper
Jeff German and the Blankety Blanks could be called the working man's band.  Hailing from Columbus, OH, German balances a full time job, roles as dad, grandfather, and hockey coach with traveling musician hitting the road at least twice a month with his band the Blankety Blanks.  This self-described Blue Collar, Classic Rock, singer songwriter and "old man troubadour with a big kicking rock and roll band behind me" is returning to Hampton Roads hitting the Norfolk Taphouse June 27 with the Shifty South and Jeremy Harrell.
When asked to describe his band's sound, German struggles to define the band's genre.  Country?  Americana?  Classic Rock?  German resorts to quoting a review the band received saying "his songs were best served cold after a long hard day's work" i.e. beer drinking music.  And with one listen to his new single "Woodshed" on Slothtrop Records hitting radio June 16th, this couldn't be clearer with lyrics such as "Sitting out in the woodshed with my old friends and me, 12 packs and 8 tracks, and black and white TV.  Writing songs and telling lies the way it ought to be."  German says the idea behind the song is to never to take yourself too seriously.
Though the subject of the music may not always be too serious, the band takes performing very seriously.  German says "I'm too old to act young  and be like a  sloppy drunk punk rock band" and adds that they set out to play every show as if playing a theater no matter the size of the venue or the crowd.  Expect a variety with hard rocking songs, intimate ballads, acoustic solos and covers.  "We are surprisingly hard rocking for a bunch of old men," adds German.
Although Jeff German and the Blankety Blanks just released their sophomore recording in April with the maxi single Woodshed, they are seasoned musicians.  German has toured with musicians such as Lydia Loveless and was a member of The Cur Dogs before striking out on his own forming Jeff German and the Blankety Blanks.  The band's debut album 12 Rounds was released March 18 of last year, and the band is working on their newest album due out September 16.  German said to expect songs from this new album at the Norfolk show June 27.  And even though these songs and his music may be new to the Hampton Roads audience, the subject matter is one most can relate to – failure.  "Those songs are inspired by how many ways I've failed in life," says German, "and maybe people can relate to it whether it's failure as a father, son or failure as a husband.  You know character flaws."  It also features songs about growing up and his dad.
The Blankety Blanks are described by German as a revolving door of members (the same guys but not always same group of guys) based on who is available and who can take a break from everyday life of work and family to hit the road.  The one standing member other then German is Graig Barnett who plays guitar.  Other members are Bradley Williams on bass, Mike Nelson on drums, Brian Mincks on drums, Matt Wilson on peddle steel, and on the album backup vocals from Todd May.  Unfortunately Norfolk will miss out on the band's peddle steel player but love what you hear?  Check out their music online to hear the full effect.
As the leader and stable member of the band, German writes the lyrics and basic arrangements for all the songs.  "The song is completely done in my head," says German.  "Once I get a song out and the guys know the song, then I get input from the band and then it becomes the band's song." The final collaboration is what you'll find on the album and at the show.  German also discusses what he considers a blessing and a curse, "With me if a song isn't done when it comes to me, it probably isn't going to get done.  Very rarely do I find that I rework a song."  The plight of the busy working man or more like natural talent.
Like many, German was influenced by listening to his brother's records as a kid – The Rolling Stones, The Clash, and The Sex Pistols.  "British punk bands from the '70s probably had more to do with shaping me as a song writer," says German.  "And as I started to grow and listening to Gram Parsons and Townes Van Zandt, that shaped me who I am… this whatever Blue Collar Rocker or whatever they call me."  German reflects that "whatever evokes that particular song, that's what you get."
On Woodshed, the band covers The Replacements' "Achin' To Be" – one of German's favorite bands.  And although German did not make changes to the song, he does sing and play it with true authentic emotion.  "I did my best to stay true to the song and still put my own emotion and feel the song as either I would've written it or how I would've interpreted it artistically," says German.  The addition of the song to the maxi single came by request of the record label's president after hearing the band play the song at a label party.   German stated the band had been playing the song live for years but never considered recording it.  He said the song seemed like a good fit even though his brother couldn't disagree more.  His brother told him "you should've call me" and "let's hope Paul Westerberg doesn't hear that song."
Woodshed and 12 Rounds can be purchased on www.jgblanketyblanks.com , Amazon, iTunes, Slothtrop Records website – www.slothtrop.com, and can be streamed on Spotify and soon on Pandora.
WANT TO GO?
Jeff German and the Blankety Blanks
June 27
Norfolk Taphouse